Since
this post
in Nov 2012, I have not updated anything about my project life. That is because I'm so into getting the photos printed that none of the spread have other things but just photos. Embarrassed to say, my previous systems doesn't work for me.
Over the weekend, I took out all my project life stuff and start "planning". I have been journaling on an online journal for 2 months and I have been keeping up since. I have a place where i keep all my ephemera, unsorted. I have all my photos from the iphone and uploaded to my Photo editor - Lightroom. I sat down and spent 3 hours editing all the photos for 2 months, collage it and then print.
Then I see that some weeks are more photo heavy than others. So i group them chronologically but not necessary by the calendar week. I prefer them to be in the weeks of the month. For example the spread i'm sharing is the first and second week of July. Rather than saying week 27 and 28, which i have already lost track of. It doesnt bother me that one spread isnt a week , but i'm a mathematician, so chronology still needs to be there
My week start on Monday and ends on Sunday.
I worked with the 2 studio calico PL and Card kits Valley high and Marks&Co I added photos, then backgroud papers, journaling cards and filler cards.
After added photos and pattern, I add some embellishments, then i add my journaling, explaining the photos
Here is my spread.
I don't have 6x12 photo sleeve,
so i trim one 12x12 photo sleeve into half and dump the other half
Perfect :)
I printed the journaling straight from my online journaling
and fill it into one of the normal document pocket
In singapore , it's the A4 size, akin to 8.5 by 11
Journaling - quick and easy - done :)
The labels are a set of printables from Hello Forever,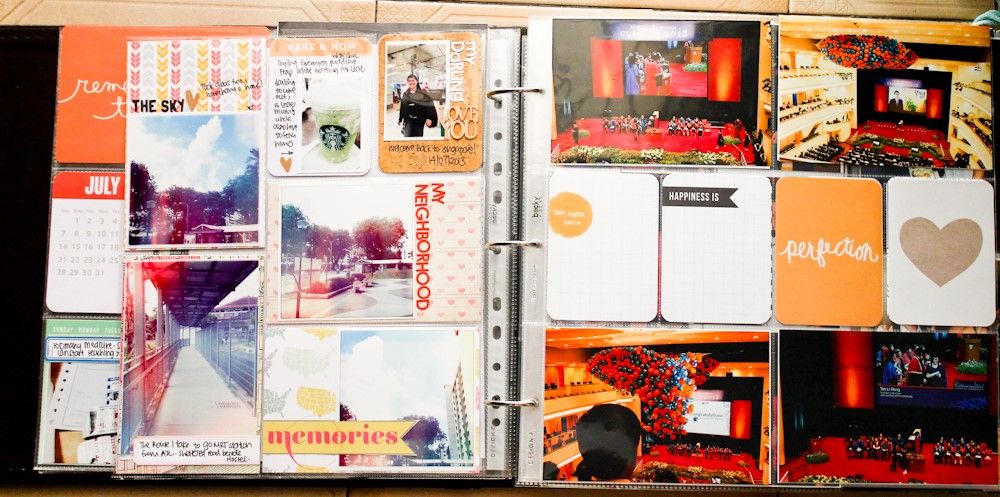 Photos are mostly taken using iphone camera
some are using Hipstamatic, which give the cool effect you see below
Love this process of doing 2 months of project life in one weekend. I guess it works better for me like this rather than sitting down every weekend, with the online journaling, i wont forget what i experience. The journaling printed are mostly emotional, although some are factual stuff while the writed journaling is all factual, and usually with reference to the photo such as what happen in the photo, or what is the food , where i bought it, where is the place, etc.
Leave a comment below sharing what is your project life system(link to blogpost if there is) One commenter will walk away with these goodies
Commens close at the end of this month. Come join in the fun for Scrapbooking systems in September :) Stay tune, tomorrow i will be sharing how i use project life to scrapbook major events :)