I own a bunch of adhesives while in search for my absolute favourite ones. Currently I use 7 types, with only THREE that sits on my desk:) Here are some of the adhesives I own.
7 adhesive that I did and will still use
1. [ON MY DESK] This is my number one option! The
Tombow Dot adhesive Stamp Runner
. The special thing about this is that it release it's adhesive in a stamping motion, but I seldom use this function. What I loveeee about this is that it really sticks strongly ,
great for papers, photo and small embellishments like wood veneers, cork die cuts and etc.
It's a little more pricey that the rest of the small adhesive tape runner, but I think for the archivability it's worth a try (I will talk more about archivability in another tape runner below) It is a little reposition able before I stick it hard down. Refills comes in 2 pack, and it often get out of stock, I get mine from Simonsaysstamp :) You can see how much I love this just by looking at how wear out and dirty (with marker and paint and ink stains all over) this is. But it still works find and I absolutely love it
2. This is the cheapest small adhesive for me , the Tombow brand made alot of adhesive and this is just most readily available for me in Singapore Popular book store. The refills comes in 3 pack and even 5 packs, so it's worth it. It's currently my backup table top tape if I run out of my Stamp Runner. Because it's stripe tape and not the dot adhesive, its harder to get it to stick intricate die cuts . it's also less strong than the stamp runner in terms of how sticky it is. But it works well of photos and papers.
3. [ON MY DESK] My third choice is the Xtreme permanent adhesive . I use this if I want to make sure THE PAPER DOES NOT COME OFF. For example when sticking a pocket together or making some project that needs stability. This one is totally not adjustable , once stick down it's firm and will never come out unless you tear the paper apart. It can also be roll into a small ball and use as glue dot. It's more expensive than the above tombow adhesives, but I use it minimally and it serves it's purpose.
4. This is the giant! When I use to scrapbook 12x12 pages, I use the hell out of this guy. It's super sticky and works great when I layer the stacks of paper. It's actually not that heavy at all. And I love the sturdiness of this ATC. It's cheaper than other ATG and the refills comes in acid free or non acid free (good for making more " perishable " projects like making garlands for party, making cards and etc). I use the acid free one only. I still keep it for one fine day when I decide to whip out my 12x12 scrapbooks and do some pages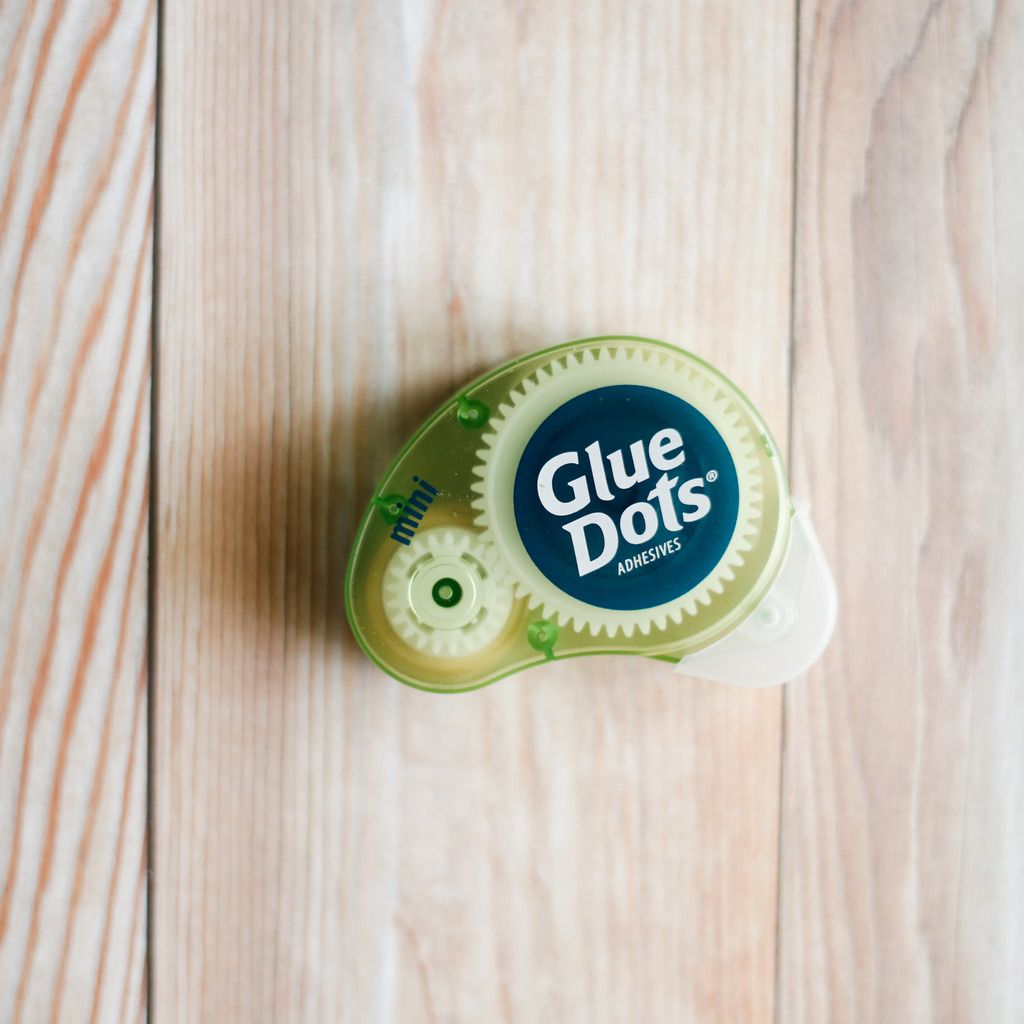 5. [ON MY DESK] The
glue dots
are good for small heavy embellishments. They are clear and I often use it for
wood veneer
. It holds on to those bulkier items strongly. I had 3 kinds of glue dots, one is in a ziplock pack and it save spaces, so i keep one pack on my desk. I also have the older style which is kept in a large box. But i got fed up with the release paper and having it dangling around the box. This is a fun adhesive tape style packaging so it prevents you the hassle of throwing away the release paper. I love the mini size and macro size (sometimes it's not as strong, so mini is still recommended)
6. This is another super strong adhesive, it is akin to that of the Tombow xtreme. This is call Scor Tape and it's made in Korea. And the quality of these tapes are awesome! I consider using this for my fauxdori instead of using the expensive wonder tape. I use this for paper PROJECTS like mini album, making the structure of it at the spine already and also sticking the pages together. I don't use this for sticking pattern paper the pages . Just the structure. It comes in a variety of size from 1/8 to i think 2.5 inches? Good for paper projects where weight of the project is a concern
7. The final adhesive is the foam tape. I used to buy EK success but now that I find the best creation foam, I'm a convert. Because it is much cheaper and not that tall in height. perhaps a 1/8 " instead of 1/4 " If you want it to be taller and more dimensional, no problem, because it can be stacked. So stick one on top of another and get a 1/4 inch foam. However now that i'm doing almost only PL and space is an issue, I tend to not use the foam tape. Especially I'm running out of album space.
Others that I do not use now
I used to be really curious about this Kokuyo dotliner and see alot of scrappy friends have it, I eventually went ahead and buy because of peer pressure, but I think it is too expensive to make it a staple tape runner. It's slightly stronger than the #2 tombow but slightly weaker than #1. But it does look pretty and has nice curves!
This is the adhesive that I find has no or poor archivability , It may be because of the weather of my country, the projects I scrapped 3-4 years ago are falling apart! The adhesive melted into the paper pages and left no texture but just the dots marking on the back of the paper. I had a shock of my life when I flip throught one of the older album, and I did not use it ever since. However I heard alot of good words from scrapbooker like Shimelle Laine and Amy Tan who uses it and has no problem at all. They scrapbooked for a longer time than i do and hence I deduce it might be the weather (humidity)
I guess it's a wrap here! Which is/are your favourite scrapbook adhesive(s)? Do share with me in the comments! Thanks for stopping by!