Yes I finally got it started! I always wanted to try but didn't have the time to do so. Now my process is still rather random, but i have been trying to follow a simple one. Here is what I usually do.
1. I record my daily notes on my iphone app called Awesome Note! I love this app cos it's colourful and cute ! You can organised your notes into different coloured/patterned folders, attach photos, insert location and all sort of stuff. Choose font size and font types ! (u can try evernote too, this is free and it has one on computer too, for convenience. I might switch one day, we'll see :) See a sample of the app in use
here
2. base on my notes of the week, I sketch out the layout of where i want which photo to go and what sizes, then pull out the photos and collage them using Picasa (also a free program on the computer) I will then go to my local photo printing booth to get the 4x6s printed.
3. Since i'm not doing PL from my own stash, I will usually start with grabbing a bunch of scraps and dump them onto my table, choose some coordinating once and cut them down into 4x6 and 3x4. I cut lotsa extras and put them directly into the page protectors in the album.
4. I cut the photos to size and slot them in . (i'm very happy with how it looks already !)
5. I pick up relavent ephemera from my envelop and slot them into the protectors pocket too.
6. Now comes the fun part, i pick the products i want to include in my layout, usually some flair buttons, wood veneers, one sticker sheet, some washi and 2 stamps set. I dump them all into a small container :) ( it's like shopping at home! So fun!)
7. Finally i will put all the embellishments together and add my journalling and teeda! it's done!
Here is my Week 42 spread: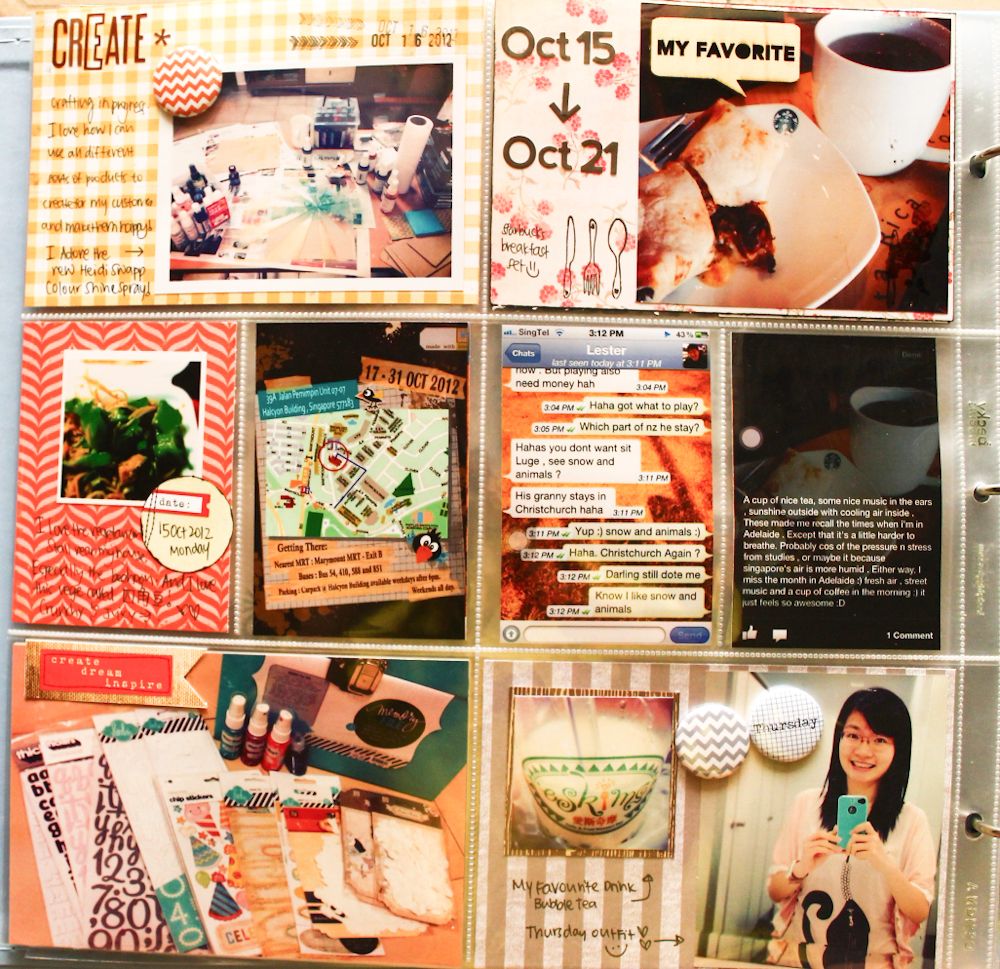 Love the wood veneers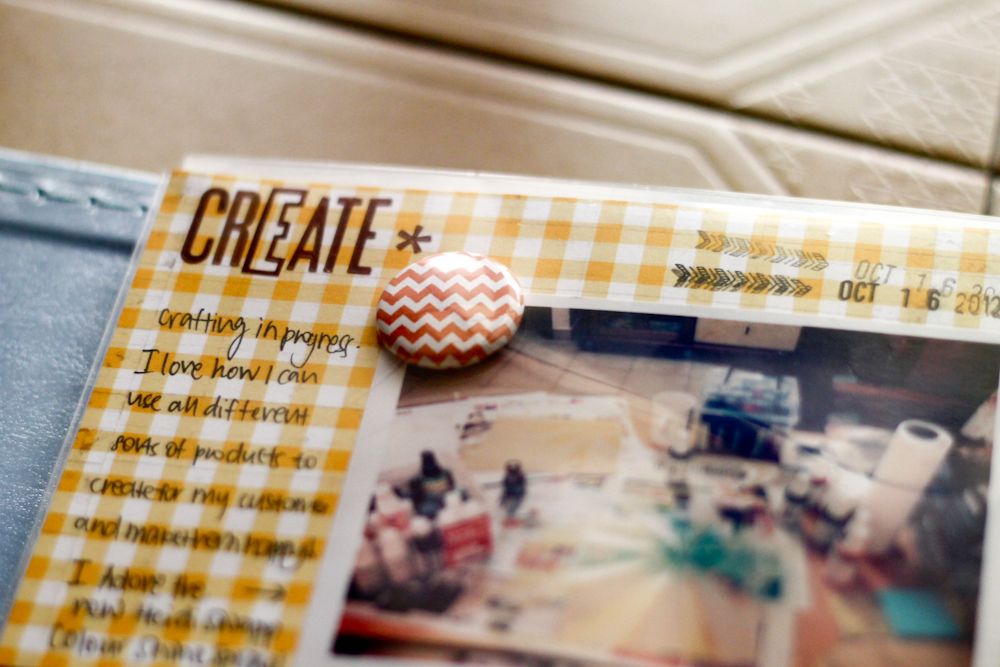 Using Amy Tangerine alpha sticker
and her tips on cutting out the frame around the words on the negative piece!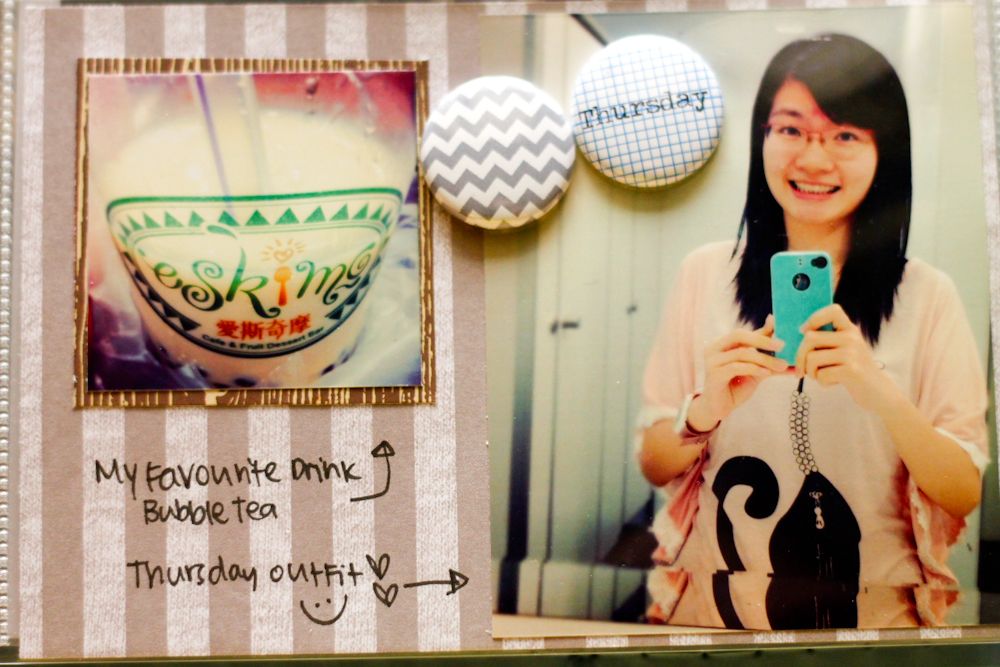 I love flair buttons!
Ok here is the big thing
I love this and wanna share a "tip" with you all
The left hand side is a conversation between me and my boyfriend on whatsapp and i just screenshot it thru my iphone.
Because he is overseas and we are not album to take photos together, nor do we go out together, hence here is how i document our conversation :)
I love that it capture the turn conversation and the feelings at that moment, if we rewrite it using journaling , some feelings might be lost. Of cos, we can add our comments to the conversation using another journaling card :)
I also do screen shots when we are skyping, making funny faces etc ! Ha~
So much of taking photos together hehe.
Try it if you haven, screen shot your conversation with your love ones, be it husband, boyfriend, friends or children . and print it out with the rest of the photos :) And let me know how u feel about it :)
secondly, the right hand side is a screenshot of a facebook photo with its comments
It's a good way to add Journalling to your PL page , if you have a fb status to document, screenshot from you phone and print it out with the photos too ! I love that the picture is kind of blended into the background of the words , not losing the content and the picture!
Try it too if you haven't :D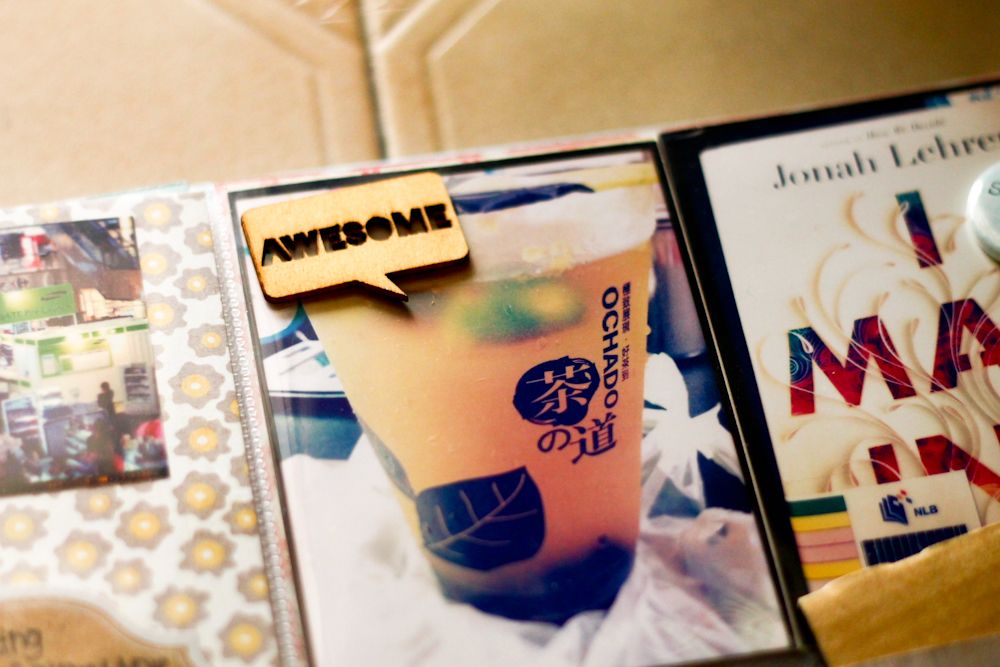 And yes i love bubble tea
and wood veneers :p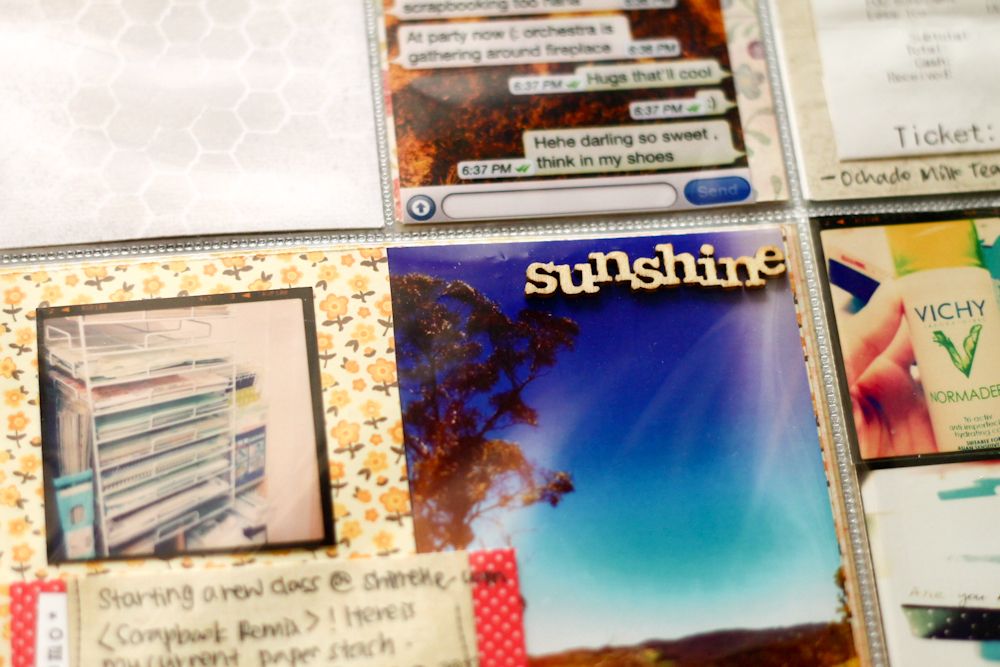 So much for now
I will be back soon sharing week 43 spread :)